The arrival of a newborn should be a time of joy and celebration, not concern and worry. With modern medicine, injuries and deaths during birth should be rare. However, out of every 1,000 infants, 6 to 8 are born with a birth injury. While some injuries are mild, a serious birth injury such as a head injury, brain injury, or nerve injury can be a devastating event that can change the course of a child and family's future.
When a birth injury is caused by the negligence of a healthcare provider such as a doctor, nurse, or hospital, compensation may be available for medical care costs, rehabilitation, nursing care costs, and emotional suffering. Because birth injuries can impact a child's ability to work during their life, the consequences of a birth injury can be lifelong. Monetary damages may be substantial.
The Los Angeles birth injury lawyers at Adamson Ahdoot LLP offer a free consultation to discuss your legal rights in a possible birth injury or medical negligence claim. Contact us today or call (800) 310-1606 to schedule your free case evaluation. We are available 24/7/365 to take your call.
What Are the Main Causes of Birth Injuries?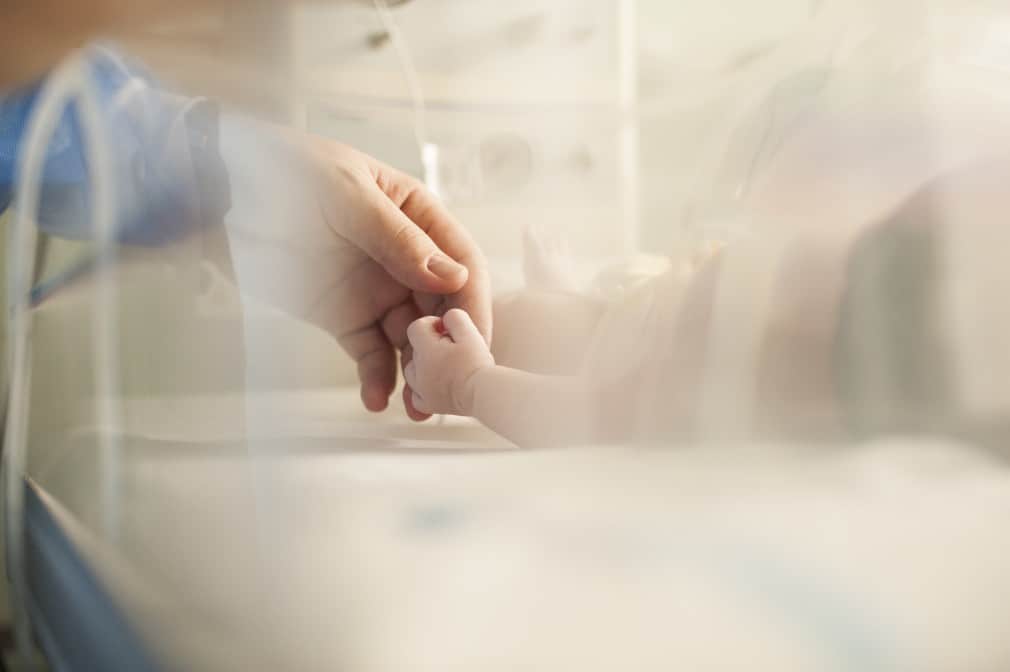 Common causes of birth injuries caused by negligence include:
Failure to monitor a baby before, during, and after delivery
Failure to monitor signs of fetal distress or respond to it
Failure to perform an emergency C-Section in a timely manner
Improperly using forceps, vacuums, or other delivery-assisting devices
Inappropriate administration of Pitocin
Negligence in providing prenatal care
Oxygen deprivation during labor and delivery
Prolonging labor and delivery
Hospital staff miscommunication
Birth injuries can result from negligence during pregnancy, labor, or delivery. If you know or believe your child suffered a birth injury, it is important to know and understand your legal rights. You may be entitled to seek significant compensation for you, your child, and your family, which can allow your child to receive the treatment they deserve. Medical providers and their insurance companies will spare no expense in hiring aggressive legal counsels to defend your claim. Even if you are unsure if filing a birth injury lawsuit is the right step, a lawyer can help you determine your options.
What is Birth Trauma? 
A birth injury, according to the National Vital Statistics Report, is "an impairment of the neonate's body function or structure due to an adverse event that occurred at birth." Birth trauma resulting from delivery complications and health care provider negligence can include:
Head trauma (fractures of skull and bones, extracranial and intracranial hemorrhages, and lesions)
Cranial nerve injuries
Brachial plexus injuries
Erb's palsy
Spinal cord injuries
Skeletal injuries
Soft tissue injuries
Brain injuries
Birth injuries are sometimes obvious, and sometimes difficult to detect. For example, post-childbirth bruising can be normal, or can be a sign of shoulder dystocia or forceps trauma. If you suspect your child may have suffered a birth injury, do not delay in seeking a second opinion from another qualified medical professional as soon as possible.
Birth Injuries from Inadequate Prenatal Care 
Inadequate prenatal care can contribute to birth injuries. Health care providers should assess an expectant mother and take precautions to reduce risks associated with:
Infections
Gestational diabetes
High blood pressure
Low blood pressure
Insufficient iron
Nutritional deficiencies.
It is your health care provider's responsibility to measure your baby's growth, check your blood pressure, run appropriate tests, diagnose/manage diseases, and identify birth defects and ectopic pregnancy. Failure to provide prenatal care can lead to permanent birth injuries or death for the mother or infant.
Injuries Caused by Oxygen Deprivation During Childbirth 
Oxygen deprivation often occurs when a fetus is not monitored carefully during labor, when a physician is not immediately notified of distress, or when a necessary emergency cesarean section is not performed immediately. Oxygen deprivation can cause cerebral palsy, Hypoxic Ischemic Encephalopathy (HIE), and other lifelong complications. Immediate symptoms of oxygen deprivation may include:
Seizures within 24-48 hours after delivery
Difficulty feeding, sucking or swallowing milk
Low Apgar score (The Apgar test is given at 1 minute and 5 minutes after birth, checking a baby's heart rate, muscle tone, and other signs to see if additional or emergency medical care is necessary. Apgar stands for "Appearance, Pulse, Grimace, Activity, and Respiration.")
Difficulty waking from sleep
Low cord pH
Respiratory issues.
Effects of oxygen deprivation may not be evident until growth milestones are missed or developmental delays are noticed. Babies who experience oxygen deprivation during birth may later experience physical disabilities, cognitive, emotional, and behavioral problems, and may be at a higher risk of anxiety and depression later in life.
Who May Be Liable For a Birth Injury? 
When a baby is born with injuries due to medical negligence or inadequate prenatal care, the responsible party may be liable for medical bills, future medical care, parents' lost earnings, your child's disability, and the tremendous emotional strain and mental anguish you endure as a parent. An experienced and knowledgeable malpractice attorney can help the victims recover compensation from any liable party, including:
Obstetrician gynecologists (OBGYNs)
Pediatricians
Anesthesiologists
Neonatologists
Midwives
Nurses
Pharmacists
Hospital staff.
Along with individual care providers providing an acceptable standard of care, the hospital has a duty to provide patients with a safe environment with competent care providers. When you hire an attorney at Adamson Ahdoot LLP, we will fully investigate all potential avenues of compensation.
Contact Adamson Ahdoot LLP To Schedule a Free Consultation
Because you have only a limited window of time to pursue a claim, you should not delay speaking with an attorney. Do not accept a claim denial or insurance settlement offer without first speaking with a knowledgeable lawyer. At Adamson Ahdoot LLP, legal services provided by our birth injury lawyers are provided on a contingency fee basis. When we represent you, we are only paid when money is recovered. In the event we represent you and do not recover financial compensation, you owe nothing. Contact us today at (800) 310-1606 to discuss your case with an attorney.